---
Sunday Worship:
10:00 AM with nursery care and Sunday School (PreK-12th)
Summer Worship (mid June-Labor Day weekend) nursery care and Sunday School available at the 10:15 AM service:
Quogue Chapel- 9:00 AM
Sanctuary- 10:15 AM
---
Westhampton Presbyterian Church dates back to 1742 with a rich history of strength and activity focused on mission.
Records from the April 6, 1742, election meeting of the Town of Southampton indicate that thirteen acres of land were granted to the Parish of Catchaponack at "Brushy Neck," "for the parsonage for ye use of a gospel Presbyterian minister." Soon after, a meetinghouse was built at Beaverdam River (where the Westhampton Cemetery now stands) and was used into the first quarter of the next century.
On March 8, 1831, it was "Voted to take the Meeting House Down and with the timber and what will answer Rebuild a house." The new meetinghouse was built at the location of the current Westhampton Sanctuary. At that time, the countryside was open and the beach could be seen from the front entrance.
Fifty-six years later, the 1831 meetinghouse was moved aside to enable the building of a new church structure. This building is our current church sanctuary. George Skidmore, a local Riverhead architect, designed it in the 1887, and construction was finished in 1888. The outside color was not white as it is today, but subtle shades of gray, toned to bring out the lines of the trim and shingles. The style is a local vernacular shingle, with many Queen Anne elements. Clapboard, square and fishscale shingles sheath the building. Inside the church, the dark, wood-paneled galleries on either side flank the semicircular pews that were arranged to increase the auditory and visual connection between the congregation and the delivery of the Word.
The Quogue Chapel was later established and now provides services during the summer.
We recently added classrooms, a modern office, a pastor's study, a choir room and handicap accessible bathrooms, plus a fire sprinkler system for the entire church. A stained glass window was installed adding beauty to our church.
We are a growing church, filled with members and friends who are deeply involved in a wide variety of programs. As of January 2008, WPC had 378 members and friends. Our dedication to mission giving has made us one of the most generous in the Presbytery, and a commitment to caring has led to many acts of involvement in local need.
We are a member of the East End Presbyterian Parish, consisting of 14 eastern Long Island churches, which promotes fellowship between area churches and coordinates worship, training, and mission activities for member churches.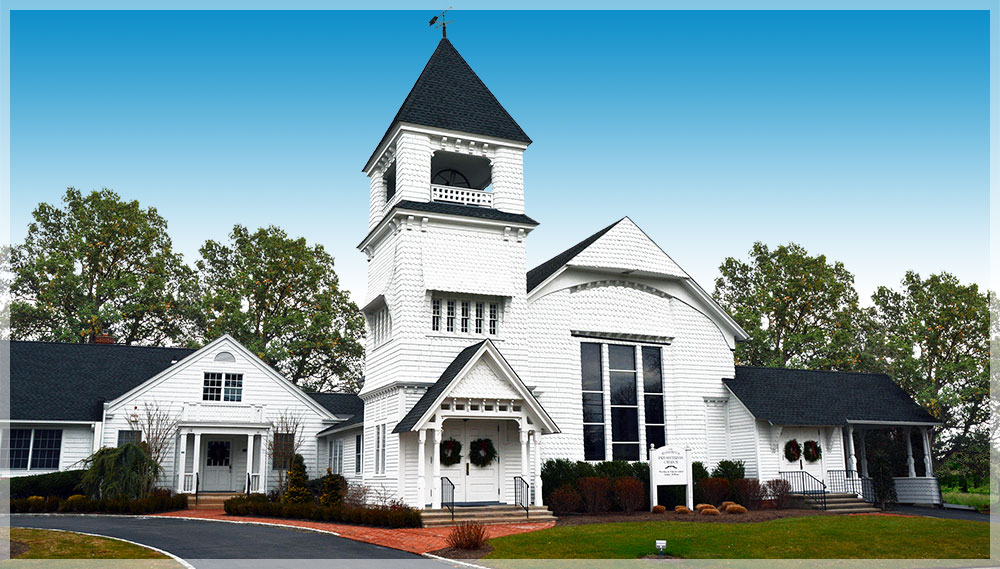 Our Memorial Garden provides a place for interment of ashes and reflection and honor for the community.
---
About Our Pastor
Rev. Vanessa Winters was born in Portland, ME where her family has lived for generations. She grew up as the oldest of five children. Following her graduation from high school, Vanessa attended Trinity College in Dublin, Ireland where she graduated with her B.A. in Biblical and Theological Studies in 2010.
She attended seminary at Harvard Divinity School and graduated with her Masters in Divinity in 2013. She was ordained to ministry in the United Church of Christ in 2014. Prior to coming to Westhampton, Vanessa served a Federated Church in Thomaston, ME for 5 years.
Vanessa, her husband Chris, and her son Wesley live together with their two dogs, Tyson and Ginger. Vanessa loves to sail and has been racing sailboats since age 8. She also loves to go to the beach, spend time with her family, ski, and read murder mysteries in the little spare time she has.
Church Calendar